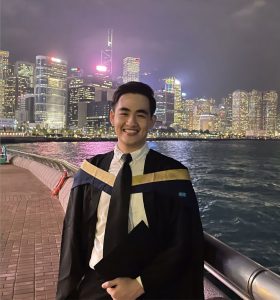 Subjects
Mathematics (IGCSE, A-level, MYP, IB, SAT/SSAT)
English (IGCSE, A-level, MYP, IB, SAT/SSAT)
Economics (A-level, IB)
Business Management (A-level, IB)
Languages
English
Filipino
Mandarin
Background
Native Speaker

IB English and Math

Bachelor's Degree in Economics at the University of Hong Kong
Experience 
English teacher in the Philippines in 2016
English, Math, and Economics teacher for international students in Hong Kong since 2021
Experience in teaching Economics, Mathematics, and Business Management to Grade 9-12 students in Advanced Placement, A-Levels, and the IB program
Developed lesson plans across a 10-session structure and conducted classes both in person and online
"Mathematics is the music of reason."
Antonio comes from Manila, the capital of the Philippines, where he studied the IB program, taking English: Language & Literature and Math in SL and Economics in HL among other subjects. After doing well in the IB program, he had the opportunity to study abroad at the University of Hong Kong and also had a semester overseas at the National University of Singapore, where he graduated with First Class Honors.
His first experience teaching was in the Philippines teaching English during the summer to public school children as volunteer work. Afterwards, he started actively tutoring English, Math, and Economics subjects with international students from across the world, such as in France, China, and locally in Hong Kong .
He very much enjoys interacting with his students, helping them learn and building a good relationship with them to establish trust. He has a passion for teaching and is inspired by his previous teachers who act as great role models on how to properly educate.
Since graduating, Antonio continues to stay in Hong Kong with a strong desire to help more students improve on their learnings and to enjoy it as well. He continues to teach English, Math, and Economics across all levels as well as standardized test preparation.